Ladies & gentleman, freaks & geeks, and fans of the unusual & macabre!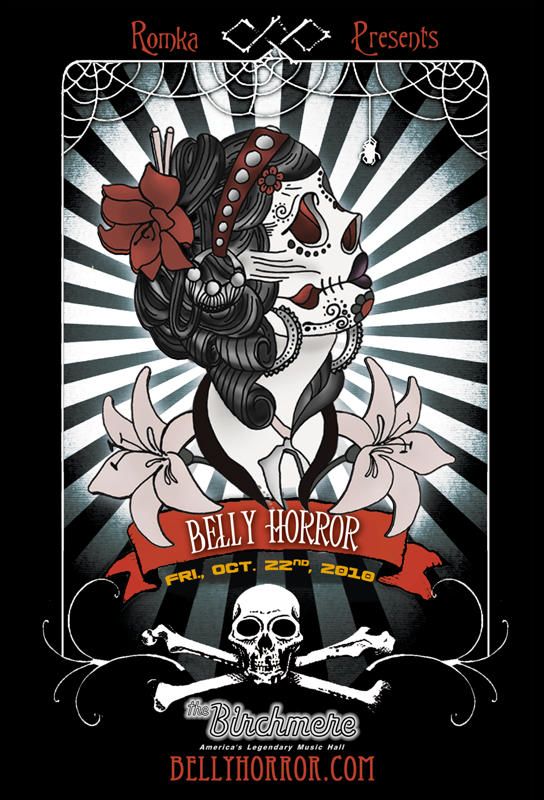 The acclaimed Belly Horror Show returns to the legendary Birchmere music hall in Alexandria, VA Friday October 22nd, 2010 featuring sinisterly sensual belly dance and burlesque inspired macabre themed performances by nationally recognized artists.
Featuring
Ariel with special guest Shakra (MD)
Belladonna (DC)
Bellatrix (VA)
Dana Beaufait (VA)
Eugenia (DC)
Frank Farinaro (CO)
Little Luna (MD)
Mavi (DC)
Naimah & Troupe Amandani (MD)
Onca O'Leary (NC)
Shadhavar (TN)
SuperKate (KY)
Troupe Hipnotic (MD)
Presenting dance theater inspired by Underworld, Attack of the Killer Tomatoes, the Kraken and much, much more...
Workshops including
Funky Geometry with Frank Farinaro
Stage Craft with Onca O'leary
Mechanical Monster with Naimah
Wraith Single Voi with Dana Beaufait
Improvisational Shadowing with SuperKate
and many more!
The Belly Horror Show is part of a wild weekend festival celebrating things that go bump in the night! The weekend includes

Spooky Dance Party, Marketplace & Show Thurs, Oct. 21 @ Town Dance Boutique
The Belly Horror Show Fri Oct 22 @ The Birchmere
Beguiling Buffet of Workshops Sat. Oct. 23 & Sun Oct. 24 @ Sitar Arts Center
Vampy, vivacious closing party at DCTribal Cafe dinner show @ Asylum


Get your tickets and details at
www.BellyHorror.com
See you at The Belly Horror Show!
The 5th Annual Belly Horror Show
BellyHorrorShow@gmail.com
www.BellyHorror.com
www.Myspace.com/BellyHorrorShow
www.Facebook.com/BellyHorrorShow